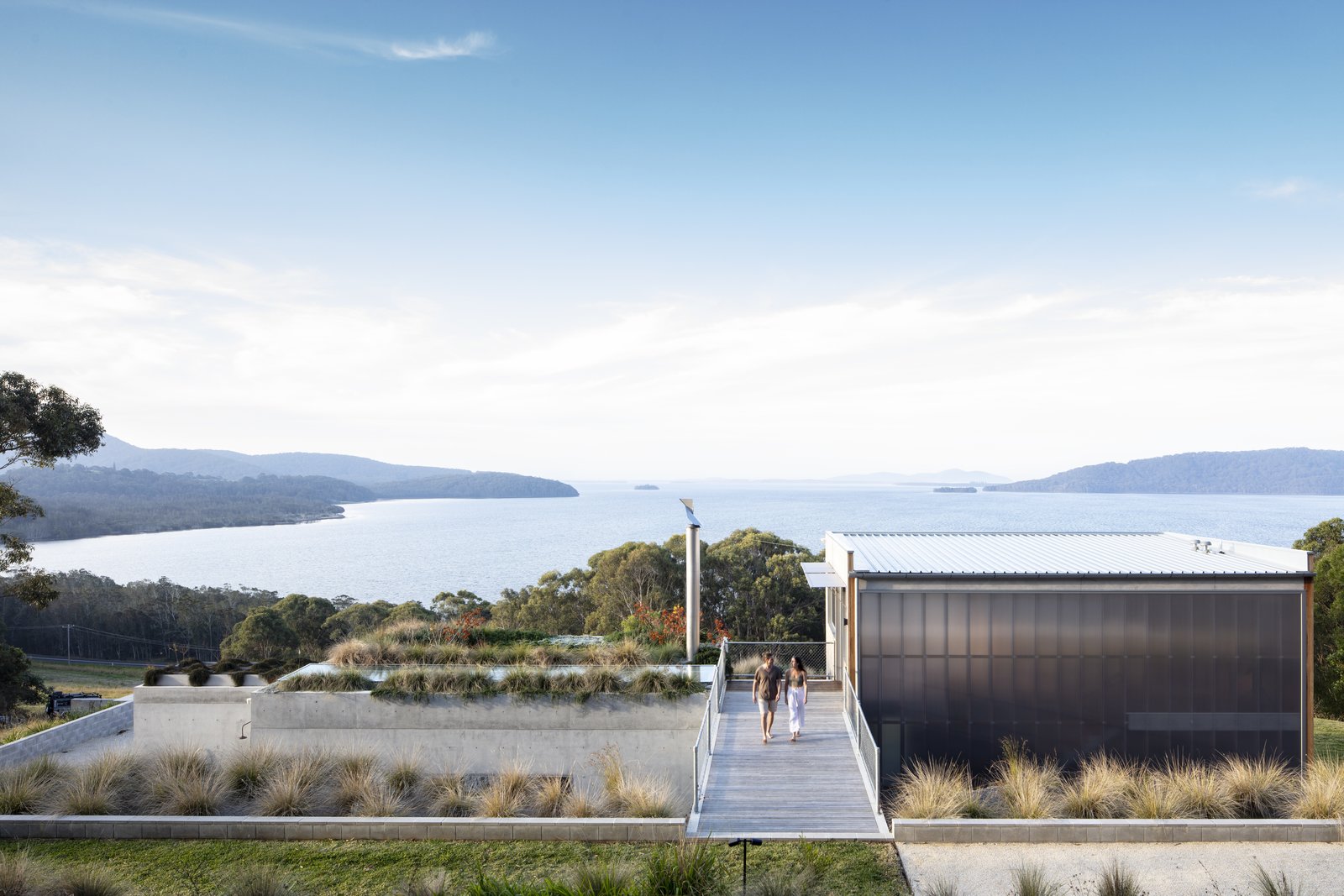 Architect Matthew Woodward jumped at the chance to build a home for his friend and fellow Mid-North Coast beach enthusiast, Adam, who also served as project manager. Wallis Lake House, named for the estuary it looks over, reflects Adam's active, outdoor-oriented lifestyle while honoring the beauty of the natural site and putting sustainability first.
Woodward studied the site to ensure cohesion between the building and landscape, and to identify the best views of Wallis Lake. "It was really interesting to see the difference of perspective overlooking the lake from above and below the rock escarpment," he says. "This started to create our building form, as we knew we wanted to capitalize on the incredible views by building higher, connecting to the top of the rock escarpment and linking to the bushland to the south beyond." 
The home captures northern sun and coastal breezes while the forested mountains to the south protect it against wind. When you first see it, the linear form makes a statement against the lush and tumbling green landscape.
A more social, concrete building links to a two-story building clad with recycled Australian blackbutt shiplap timber, which houses the private areas. Thermal benefits, recyclability, and longevity guided the material choices—the timber, for example, will grow gray over time, while concrete provides superior thermal mass and heat retention. 
The cultivated landscape and green roof integrate the design seamlessly with the environment while providing fresh produce. Passive solar heating and cooling solutions, rainwater collection, and natural cross ventilation were all seamlessly integrated into the design. 
Woodward describes the home as an eclectic mix of masculine and feminine aesthetics. "Its personality is rather eclectic," he says. "It's adventurous and willing to take risks, which is what makes it so authentic and real."